Around the globe, job opportunism seems to be dwindling by the minute and Ghana is no exception. This has pushed a group of young people to craft Maariba, a mobile app that helps create job opportunities for the many artisans in the country.
This ideal app launched in Accra just last month and promises a great endeavor to lessen unemployment in Ghana.
Maariba is based on the subject that despite the high demand for vocational skills in the country, Sub-Saharan Africa still struggles with artisans' employment.
Commonly in Africa and other parts of the world, people see artisans as sub-standard and not safe to employ their services. But Maariba thinks different and seeks to change that notion.
Maariba supposes with the right support, coupled with the right exposure, local craftsmen can enhance their capacities the more. And also, the idea that they are not good is false as Maariba believes they are actually skilled and experienced craftsmen.
Primarily, the mobile app is designed to provide a stream of customers to the artisans and also, clients to easily have access to the right artisans for the job. Maariba also seeks to enhance their various professional skills by giving them personalized capacity development training. As well, Maariba aims to make craftsmen in the country more marketable.
During the outdooring of Maariba, the CEO, Mark Achaw implied that the app is here to make a change. Achaw believes Maariba will help to resolve the challenges confronting artisans. CEO Achaw also said Maariba users can stay in their homes and find persons to repair their broken appliances.
He encouraged that the app is a medium for artisans to advertise themselves out to the service users. He also promised registered craftsmen will enjoy periodic training for their professional development and growth.
How to use Maariba
The process to join Maariba family is quite easy. Get the Maariba app from Apple's App Store for iPhone or Google Play for Android phones.
Or you can simply dial the short code *711*722#. Then follow the registration process, and activate your account. That's it, you can start using the app.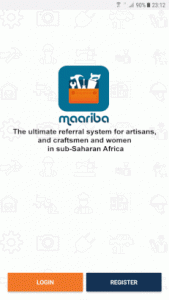 Source: JB Klutse